Wanting to combat the rise in youth depression, the New Zealand Ministry of Health funded this multimedia website to help teenagers understand the disease. Celebrity avatars set in a Flash 3D Space brought familiar voices to stimulate participation. The site was introduced to public schools nation wide, where youth watch stories, express their opinions and contact counselors.
TECH SPECS
» CMS : Flash/Silverstripe integration
» Flash 3D
» Greenscreen shoot
AWARDS
» Gold: Best use of Digital, 2009 CAANZ Media Award
» Silver: 2009 International ECHO Winner
» Winner: RSVP Craft Best Use of Interactive Media
» Winner: The Societal Impact Award
Ecycle Environmental called for a re-brand and new website as a result of the company's expansion into recycling more than retired Electronics. Working in an ever-changing market of waste recylcing, this site provides the visual communication needed on the surface while creating a flexible back-end to give Ecycle Environmental control over weekly promotions and up to date information.
TECH SPECS
A youth education site, QTV focuses on scientific and environmental issues on a local and global scale. Aligned with the the QTV show, the website launched a new section each week accompanied by 4 flash game releases.
AWARDS
The Barista@Home website was created on the brand idea that café coffee is a chore, filled with noise and long lines. The site was commissioned with the philosophy that one can make a perfect cup at home with Barista@Home coffee and knowledge provided on their online website. To keep the site fresh, a CMS back-end was built into the interactive magazine for continually updated promotions and barista tips.
TECH SPECS
» CMS : Flash/Joomla integration
» Interactive Magazine
» Flash, After Effects animations
Art Direction
Oktobor

DraftFCB
Tip Top Ice Cream's ideal enviroment was one entirely made of sweetness, so that is just what was created. The site was built on the rule that 'Everthing needs to be edible.' Yummy assets were created in collaboration with the TVC and the back end was built by Federation Media.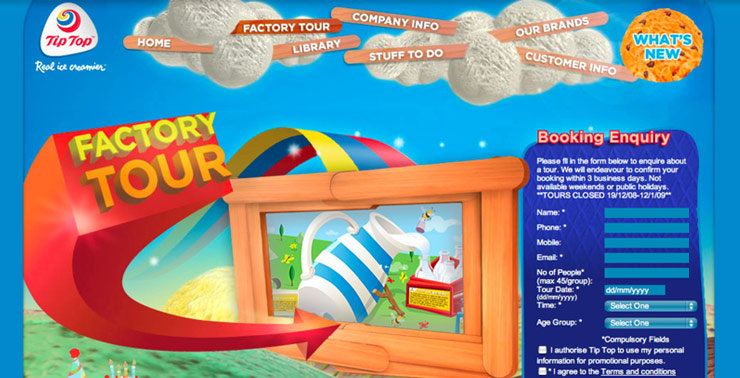 Art Direction
Oktobor

Collenso BBDO
This microsite was a teaser for the launch of Vodafone's new portable internet device. Using 3D in Flash to display Vodem's top features, a contest application was built to give the first entries a free Vodem previous to launch.
TECH SPECS
This portfolio site for sport photographer Scott Soens places an emphasis on simplicty, as requested by the client. This site lets imagery speak for itself while adding the hand crafted look that echos Soen's work.
TECH SPECS
Soens Photo & Film
| WEBSITE
Art Direction
Alley Design

Soens Photo & Film
Working on the main and entitle for the feature film, S.W.A.T., I was lead animator for the film's end title sequence. Shot footage of sirens and moving text continued the film's law enforcement theme.
This site was created as part of my senior thesis project at Otis College of Art and Design. 'Chemical Effects' was created around that ideology that important issues can often be complex and diffcult to digest. This site explored idea that an in depth essay can be reconfugured into a stimulating journey on the web. The site mixes controled, random, and user driven interactions to drive quest for the user to find the 'Solution'.
AWARDS
» Best in Show - Otis College of Art & Design